Ramsey's Draft - West Loop <> Spring 2011
---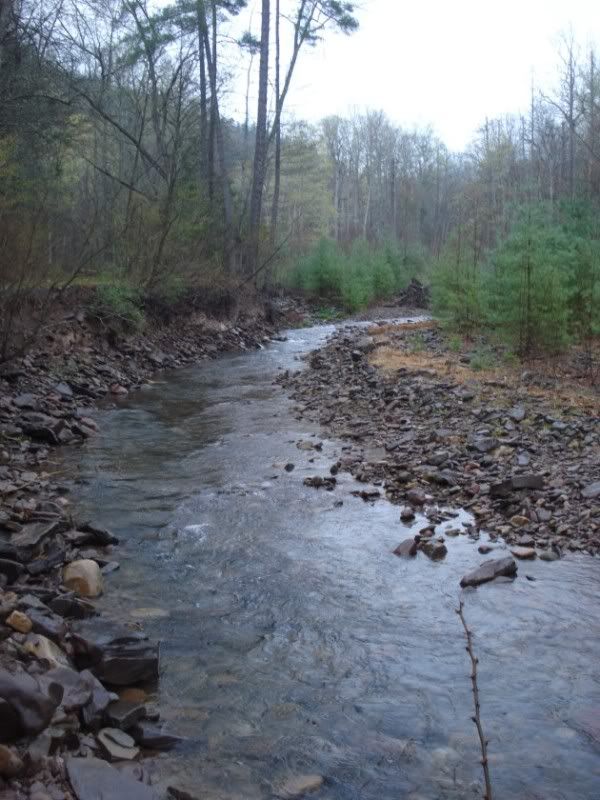 Trip Report:
I arrived at RD TH at about 5:30 PM Friday. When I crossed Ramsey's Draft on 250 on my way in and the water didn't look too high from the bridge. A Backpacker in the trailhead parking lot was just coming off the trail and he said the draft was not dangerously high. He said you're fine as long as you have gaiters. I learned long ago that gaiters aren't waders. I had no intention of carrying the extra weight - especially knowing that they wouldn't keep my dry while wading across a stream. It was raining pretty hard when I arrived. I ended up prepping and packing almost entirely in the back seat of the car in an attempt to keep all of my gear dry. I also dressed for the evenings hike with keeping my stuff dry in mind. I left my hiking clothes in my pack and wore shorts and rain pants on the bottom and a thermal base layer and rain jacket on top. This combo worked pretty well for the night's hike which was only 2.5 miles and crossed the draft just 5 times. The crossings were all pretty easy. I took my shoes and socks off and rolled up my pants for a few of them and rock hopped the rest. My feet got a little wet, but not too bad. It was far easier crossing it this time than it was back in 2005 when Jess and I hiked this trail in the winter and the draft was partially frozen and flowing strong. THAT was a little nerve wracking. Anyway, about a mile from the trail head I passed a couple that was heading back to their car. They were planning on camping that night but the rain scared them off -- they were heading to a hotel.
I ended up camping at the intersection of Ramsey's Draft trail and Jerry's Run. It never stopped raining that entire night. I cooked dinner and then breakfast the next morning in the vestibule of my tent. I really only left my tent for bathroom breaks and to try to bear-bag. I say "try" because I kept missing the branch I was going for and gave up because I was getting soaked. I kept my food in the vestibule that night. I think it was too wet for animals to come investigate. They don't like the rain either.
It finally stopped raining at about 8:30 – 9:00 AM and that's about when I broke camp and continued hiking up the draft with half of my gear wet and strapped to the outside of my pack. All that sodden gear made my pack way heavier than it was at the beginning of this hike. The weather really started to take a turn for the better and it ended up being a gorgeous day. Blue skies.. probably 75-80 F.. Perfect. I ran into to a group of 4 heading down the draft. They camped at Hiner Spring the night before and we spent a few minutes commiserating on the nasty weather we all endured.
I continued up the draft and filled up my water bottles at Hiner as this was possibly the last chance for water in quite a few miles. About halfway between Hiner Springs and the Junction of Ramsey's Draft Trail and The Shenandoah Mtn Trail there is a ˝ mile spur trail to Hardscrabble Knob (4240ft.) I took this half mile side trip (It's only another 200 feet of easy ascending.) The sky hadn't fully cleared at this point so I didn't get a great view, but it was still nice to be up there for a little bit. And I was surprisingly able to get phone reception at the peak. I was able to call my wife, Kristen to say hi and that I hadn't been eaten by bears yet.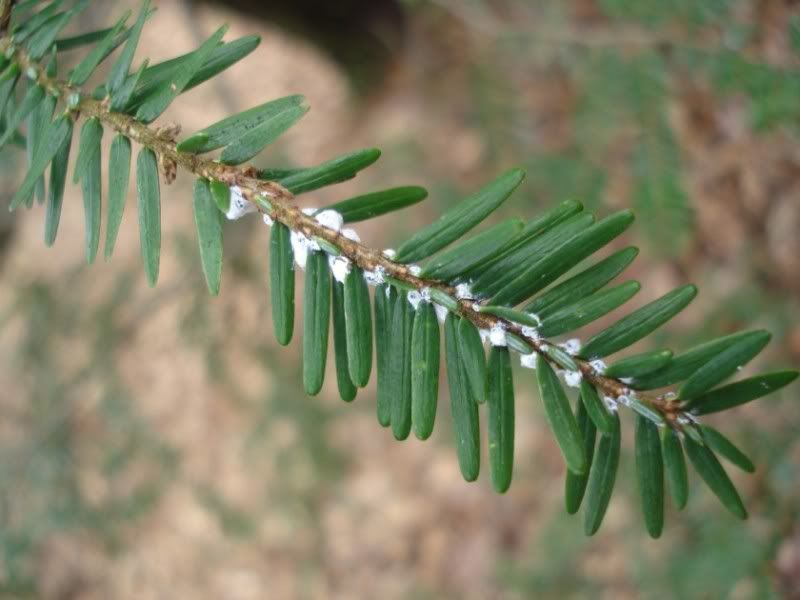 Soon after this side trip I hit the Shenandoah Mountain Trail. This is 6 miles of truly excellent trail. Really top notch. You spend a lot of time on the western slope of Shenandoah mountain with some terrific views of the valley and the mountains beyond. I saw countless Hemlocks (many alive) and a bunch of dogwoods in bloom. The wooly adelgid does seem to be toppling many of these giants, but I saw innumerable young hemlocks that appeared (to me) to be thriving even with the colonies of adegids on them. (The white stuff you see on the branches in the pics are wooly adelgid.)
As nice as this stretch of trail is it is almost completely dry. In addition there are very few flat spots. Basically there is nowhere to camp on this stretch nor is there anywhere nice to pitch a tent along the Road Hollow trail (which is the last leg if the journey – 2.5 miles back to the Ramsey' Draft trail.) Because of this lack of campsites I ended up back at the car by 5:30 PM on Saturday. I planned on staying 2 nights in the backcountry, but I guess the hike just wasn't long enough.
All told it was short, but rather excellent hike. My gear performed nicely. My only complaints would be that the tent leaked some – it just needs seem-sealed again and my pack was hard on my shoulders on Saturday. I believe this was due entirely to the extra weight of all that wet gear.
---
Pics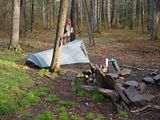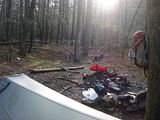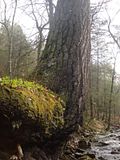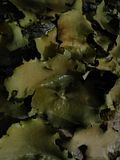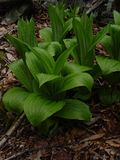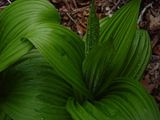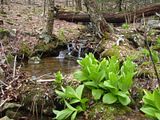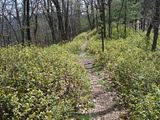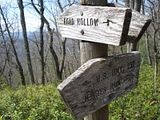 ---
Hike Overview
I'm really looking forward to this solo hike of the Ramsey's Draft Wilderness. Jess and I did the Eastern Loop in the fall of 2005 -- right around the same time that the good folks from Midatlantic Hikes were vetting out the West Loop that I'll be hiking this time. This is a fairly short 15.8 mile circuit, but I hope to add a few miles in side trips. Ramsey's Draft is a designated wilderness area in the North River Ranger District of the George Washington and Jefferson National Forests. It is in VA, close to the WV border. The nearest town is West Augusta, VA. The word "draft" means "stream" in this case. This trail travels along the draft and crosses it some 20 times. Hopefully the water levels are such that these crossings are drama free. (It's wise to avoid drama when backpacking solo.)
The VA department of Game and Inland Fisheries website lists large maples, oaks, hickories, and some scattered pines plus several large hemlocks as the tree species I can expect to encounter. I'm really interested to see if any(many?) of those hemlocks still stand. A number of them were still towering over the forest in 2005 when we were there, but I've read that the Woolly Adelgid will have pretty much eradicated the Giant Hemlock from these woods by now. Hopefully I find a different story.
As far as expected fauna sitings go, the VA-DGIF site lists a host of birds including such highlights as Roughed Grouse (West Virginia Mountain Chicken) and Red Shouldered Hawk. The only mammals they list are Black Bears and Red Fox. Of course I am much more likely to encounter squirrel, beaver and maybe white tailed deer. I always enjoy a bear sighting, but they are few and far between. However, hiking solo always increases your chances for wildlife sightings.
*************************************
UPDATE 4/21: Well, I'm ready to hit the trail. The recent storms may have swollen Ramsey's Draft to the point of being unsafe to ford. I shall see soon. If that's the case, I think I know some ways around it. We shall see!

Keep an eye on theTru-Burn Blog for live update this weekend IF I have mobile coverage out there... which I highly doubt.
*************************************
---
UTM Coords and Directions
Trail Head - Mountain House on 250 just west of West Augusta VA
38.308241, -79.360986
---
Links / Maps / Details
USGS Quads:
WEST AUGUSTA, PALO ALTO, (maybe) MCDOWELL
-
Check out the Midatlantic Hikes page dedicated to this trail
Link
They always put together some great info on these hikes. "MAH" is an invaluable resource.
-
Wikipedia page for RD
Link
Once printed, the following 4 maps can be combined into one larger topo map of the area.
This is a downloadable map from Midatlantic Hikes. It is an excellent map of this hike