Pennsylvania's Black Forest Trail - April 6-9 2007 - Tiadaghton State Forest
---
---
JJB Pics - click thumbnail to enlarge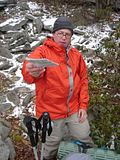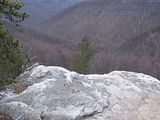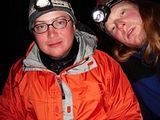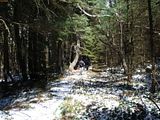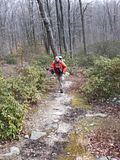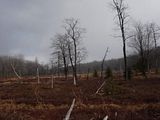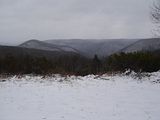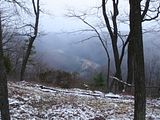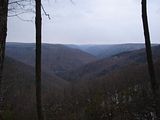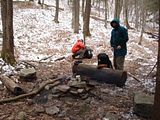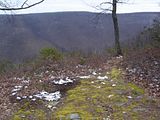 JJB Trail Notes


Thursday Night... . . . . Kym and I struggle to get out of Cleveland . . Whiteout conditions. Road conditions remain poor for most of the Journey to the trailhead. Leave at 6pm. Arrive at trailhead in Pine Creek Gorge circa midnight. Survey the area, enjoy an adult beverage Carlo's is the first of the Honda's to arrive, Tony's about 10 minutes later. Actual trailhead is just a pull-off on the side of the road, so it provides no real camping options (though a few hundred meters down the trail is a campsite as i recall)

Friday morning - after a fairly hearty breakfast, we drive over to the TH, finally hit the trail at noon. less than a quarter mile in. . . stream crossing.. wide stream.. . the boots have to come off. cold. we knew a decent uphill was to immediately follow, and suspected that this was the worst of the crossings (and we were right), so in we went. With numb feet, we began that first (of many) uphills. First climb provided good views of the main pine creek gorge (and Wolfe's General Store...wink wink...) 10 miles on that first afternoon. Camp was nice.. but near a recent major tree felling event. Provided for ample firewood though, which was necessary for the Kabobs. Luck was on our side as a previous party had left a grill / grate thing in the firepit which we put to good use.

Saturday - This was the longest day mileage wise (though not the most difficult). Covered close to 15 miles over varied terrain. We opted against the "BFT High Water Route" and were glad we did. There was something like 25 stream crossings, but none required de-booting. Mountain Mulligatawny (sp?) was dinner (thanks to Tony). Annoying light snow plagued (and moistened) our fireside time on this evening.

Sunday - No easter egg hunt. Woke to an inch or 2 of fresh snow and sunshine. Covered about 11 miles on this day... but it was pretty much steep up or down the whole time. Felt the Tru-Burn on this day....proper. Camped down in a valley and dined on pasta, again thanks to Tony.

Monday - fairly early deparature, covered 6 miles, back to the cars at 1pm. Great Hike!!!

-JJB

back to top

---
AJT Pics - click thumbnail to enlarge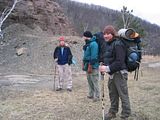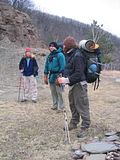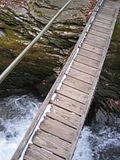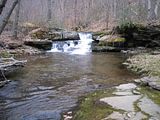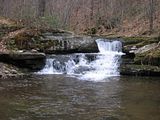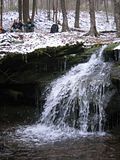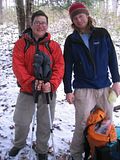 AJT Trail Notes
Jess, Carlo, Kym and I just completed the 42.1 mile Black Forest Trail in the northwest corner of Lycoming County near the village of Slate Run, PA. What a trip! We hit the trail on Friday (4/6) at noon and finished the hike on Monday (4/9) at about 1PM. It took our Aussie friend Kym a tad longer as he missed the last (and at that point possibly the most important) turn up to the trail head. It was the ice cold stream that required a barefoot crossing days before that jogged his memory and prompted him to turn around. We all had a good laugh at his expense of course.
This trail is wrought with steep climbs and steeper descents. Every one of them is rewarding in two ways; great vistas and a sense of accomplishment. The descents were possibly the most challenging of the two. This was especially true for Carlo who chose smooth soled, low-top approach shoes for this journey. Snow + rocks + leaves + steep descents - any semblance of traction = Carlo slip sliding away. Don't feel too bad for him; it turns out that he had a sweet new pair of waterproof, Merrells with killer Vibram soles in his car at the trail head the whole time.
There is a lot to be said about this trail and I hope Jess, Carlo or Kym have something to add to my eloquent prose. It was probably the most enjoyable and rewarding trek I've taken thus far in my life. I highly recommend it. Give yourself 3+ days for this trip. If memory serves, we did 10 miles on day one, 15 on day two, 11 on day three and 6 on the last morning.
This trail is not mapped on Topo USA and I (as usual) had every intention of tracking the entire route on my GPS so that I could add it. Since I still haven't devised a good way to mount my receiver for full time tracking I failed to complete this project. I did track about 15 miles of it before giving up. I swear I'll do it next time....
-Tony
back to top
---
The Black Forest Trail
The Black Forest Trail is a 42.1 mile loop trail in the northwest corner of Lycoming County near the village of Slate Run, PA. Slate Run is located along Pine Creek on highway 414, 27 miles north of Jersey Shore, PA. The trail starts and finishes in a pine plantation 0.8 mile from the Slate Run Village on the State forestry road. The foresty road leave Route 414 in a westerly direction. The name Black Forest was derived from the dense,dark (Black) virgin coniferous forests that originally covered the region. The Black Forest Trail is a rugged trail with many vistas as the trail winds up to heights overlooking Slate Run, Morris Run , Big Dam Hollow, Naval Run, and Pine Creek. There are many steep climbs on the Black Forest Trail but the vistas are well worth the effort. In the spring, when the water is high, the many creeks that traverse the trail provide numerous beautiful scenes.

---